There's a paradox to all this. Despite his ideological kinship with the anti-government crowd, Paul Ryan is the embodiment of the troika of money, power, and politics that corrupts and controls the capital, the very thing the tea partiers detest.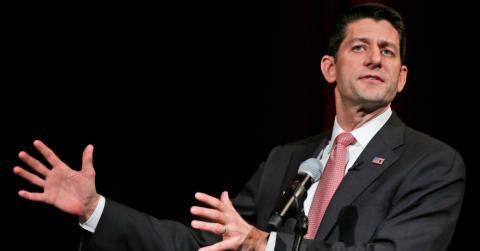 Only in a world where Cosmopolitan magazine can declare the Kardashians "America's First Family" and the multi-billionaire loose cannon Donald Trump is perceived by millions as the potential steward of our nuclear arsenal could about-to-be Speaker of the House Paul Ryan be savaged as insufficiently right-wing.
This is after all a man who made his bones in Congress and the Republican Party as an Ayn Rand-spouting, body building budget-buster slashing away at the body politic like a mad vivisectionist, as well as an anti-choice, pro-gun zealot who never met a government program he liked (except the military, whose swollen budget he would increase until we are all left naked living in a national security state).