Our most important political task: To flip the U.S. House of Representatives into the hands of the Democrats. Not everyone on the left agrees. Now is the time to elect Democrats – many of whom may not fit the progressive mold – in "swing districts."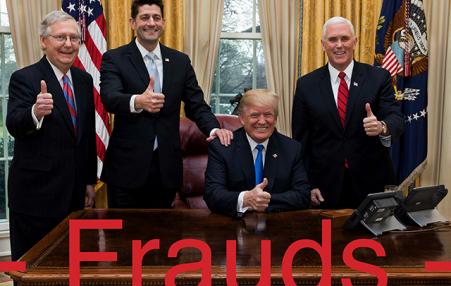 Mitch McConnell, Paul Ryan, Donald Trump, Mike Pence, photo credit: Stansbury Forum
"L'estate sta finendo" (The summer is ending)
"E un anno se ne va" (And a year is going by)
"Sto diventando grande" (I am growing up)
"Lo sai che non mi va." (You know I don't like that)
The popular Italian hit captures all we need to say about the coming period. Before long the summer will be over and for many of us it's time to get down to business on our most important political task: To flip the U.S. House of Representatives into the hands of the Democrats.
Not everyone on the left agrees. For example, Chris Hedges recently wrote, "The Democratic Party elites…are creations of the corporate state. The Democratic Party is as much to blame for Trump as the Republicans. It is a full partner in the perpetuation of our political system of legalized bribery, along with the deindustrialization of the country, austerity programs, social inequality, mass incarceration and the assault on basic civil liberties. It deregulates Wall Street. It prosecutes the endless and futile wars that are draining the federal budget. We must mount independent political movements and form our own parties to sweep the Democratic and Republican elites aside or be complicit in cementing into place a corporate tyranny."(1)
We don't disagree with much that Hedges says about the Democratic Party — except his last sentence. With the right wing rising, quixotic talk of "forming our own parties" or being "complicit with corporate tyranny" by supporting Democrats is pure fantasy. It completely misses the necessity of a building a united front against a dangerous far right nationalist movement led by Trump and his backers.
As the song says, we are getting older and hopefully a little more mature and we can understand the critical importance of putting the reins on the erratic, racist, misogynist, anti-labor monster who sits in the White House. For one of the best discussions of Democratic Party "lesser of two evils" dilemmas, we strongly suggest reading longtime DSA activist and former legislator Tom Gallagher's
"The Primary Route."
Now is the time to hold our noses and elect Democrats – many of whom may not fit the progressive mold – in "swing districts." That's why we support "
Swing Left
," an initiative coordinating this effort that helps people find — and commit to supporting — progressives in their closest Swing District to ensure that we take back the House in 2018.
(2)
This is not to understate the importance of building a strong bench of progressive candidates at the municipal, county and state level. However, the importance of those contests, often in places where differences are minimal, pales in comparison to the job of putting the political brakes on Donald Trump. The country and the earth's future will feel the impact if we fail in November.
So, we urge people to get ready to head to the "red" and "purple" districts where vulnerable House Republicans can be beat. These races are crying out for volunteers, donations and brio!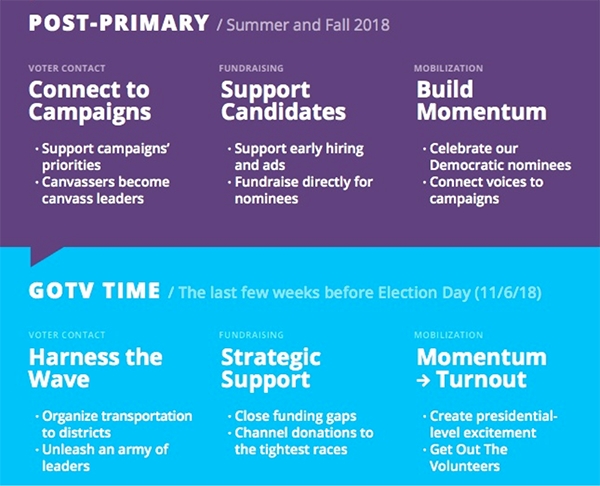 There are plenty of places to go for September and October to help organize on the ground. Make your travel plans now, because some of these districts may be crowded with folks who are setting out to do this important work.
If you can't travel, there are many other ways to take action. You can donate or host a fundraiser for District Funds to give Swing District Democrats a boost the day they become the official nominee. You can host or attend a Voter Contact Event. Or start using new phone banking technology to talk to voters in a Swing District.(3)
The authors have already made their own plans:
Peter Olney plans to spend September and October in Southern California working on the 39th Congressional campaign of Democrat Gil Cisneros. He is running to flip this Eastern LA County/Orange County seat, which Hilary carried by 8.5% points in the 2016 election. The incumbent Republican Ed Royce has resigned, but his former aid, Young Kim is running to replace him. Peter has a strong personal interest in this project – his return to Italy is contingent on winning a Democratic majority.(4)
Rand Wilson is deciding between devoting his time to the contest for an open seat in New Hampshire's First Congressional District that could easily go Republican or campaigning for Jared Golden, the Democrats' nominee challenging Republican Rep. Bruce Poliquin in Maine's 2nd Congressional District race.(5)
Regardless of the outcome of the U.S. elections in November, there is so much important grassroots organizing to do in the U.S. — and Italy. Avanti Popolo!
•
Notes:
2:
Learn more at
swingleft.org
. According to Swing Left, there are 78 Swing Districts. These are places where the last election was won by 15% of the vote or less, where Hillary Clinton beat Donald Trump, where a high concentration of volunteers could make certain districts winnable, or where other, specific circumstances make it a competitive district. Democrats need to flip at least 23 seats to take back the House in 2018. If they hold on to the vulnerable Democratic-held districts, they only need to flip 23 Republican-held House seats to take back the house in 2018.
3:
Interested in learning more or questions about how to get involved? Contact Swing Left at
host@swingleft.org
.
4: Peter promised his Italian friends that he won't return to Italy unless we flip the House, although a return to Italy is beset with such a similar government, the product of some of the same right-wing populist forces that elected Trump.
5:
The 2nd district backed
Barack Obama
in the 2012 presidential election by a margin of 9 points, before flipping red in 2016 for
Donald Trump
(R), who won by 10 points.
[Peter Olney is retired Organizing Director of the ILWU. He has been a labor organizer for 40 years in Massachusetts and California. He has worked for multiple unions before landing at the ILWU in 1997. For three years he was the Associate Director of the Institute for Labor and Employment at the University of California. View all posts by Peter Olney.
Rand Wilson has worked as a union organizer and labor communicator for more than twenty five years and is currently an organizer with SEIU Local 888 in Boston. Wilson was the founding director of Massachusetts Jobs with Justice. Active in electoral politics, he ran for state Auditor in a campaign to win cross-endorsement (or fusion) voting reform and establish a Massachusetts Working Families Party. He is President of the Center for Labor Education and Research, and is on the board of directors of the ICA Group, the Local Enterprise Assistance Fund and the Center for the Study of Public Policy. View all posts by Rand Wilson.]